Getting Around Weihai
Weihai faces the sea in 3 directions. With a coastline of 9856.5 kilometers and beautiful natural beaches, Weihai has rich tourism resources. In the recent 20 years, Weihai has attached great importance to the development of ecological tourism resources and has made an investment of RMB 3 billion in the utilization of tourism resources.
Weihai has many tourist spots such as Liugong Island, Huancui Tower Park and CCTV Weihai Film and TV City. And there are plenty of holiday resorts including Mt. Chashan, Mt. Shengjing, Chengshantou, and Wolong Mountain-Celestial palace and Ground Palace. Except the mentioned, Weihai is also famous for the Swan Lake and Hailv Island.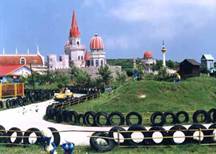 CCTV Weihai Film and TV City
Located along the beautiful western coast of Weihai. CCTV Weihai Film and TV City covers a space of 500mu. The phase 1 project-Windmill Tourist Spot and Cartoon City take a space of 110mu. The plan for phase 2 projects includes 10 function areas, over 70scenic spots, displaying the essence of modern tourism of European style and integrating history, science and technology art, dreams and adventure. Catering to the needs of the next century, it is an ideal place for shooting films, sightseeing and spending holidays.
Huancui Tower Park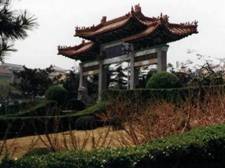 Located at the foot of Naigu Hill, Huancui Tower Park takes a space of over 300mu. Built in 1489 and innovated in 1931, the park was burned down by the Japanese army. In 1978, the Government of Weihai rebuilt the Huancui Tower Park, completing the historic construction with groups of pavilions, towers, terraces and corridors. In the park are all kinds of plants including some precious trees. In addition to an animal area where the animals under state protection from category 1, category 2 to category 3 are raised, places and facilities for body-building and entertainment can be found inside the park.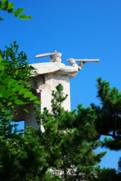 Liugong Island
Covering 3.15sq kilometers; Liugong Island is a state-level scenic spot and key state-protected spot for cultural relics. Called "Paradise on the Sea" and "Unsinkable Warship", it is the birthplace of Beiyang Fleet. The first modern navy force in China. Liugong Island took the lead in establishing National Civilized Scenic Spot in China and the protection, management and development of the Island has entered a new stage. In 1998, its tourist arrivals totaled 1.3 million. In 1999 approved by the Ministry of Construction, it became a State-level Civilized Scenic Spot.
Mt.Chashan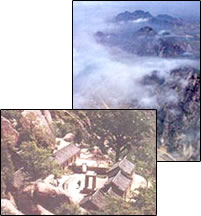 Lied on the Yellow Sea shore of southern Rongcheng City of Shandong Province, with an attitude of 539 m of its highest peak¡ªQingliang Top,Chashan Mountain(Iron Chashan Mountain of Nine Peaks) owes its name to the nine deep green peaks linking to each other.
Chashan Mountain is well known as the Wonderland of Dadong since ancient times for the natural and human cultural relics. It is also an important origin of Taoism.
Distance from the city (km): 50.0
Mt. Shengjing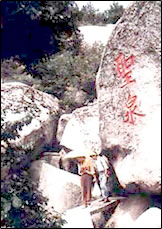 Shengjing Mountain scenic spot is located in the northwest area of Gejia Town, Wendeng City, and 20 km away from downtown. The stretching peaks, green pines covered mountain, plain contiguous with Yellow Sea and Gaoshan Lake are like a ring winding around the mountains.
As the cradle of Quanzhen branch of Taoism, Shengjing Mountain is also famous for its rich religion culture.
Distance from the city (km):20.0
Transportation: Buse shifts are provided each day from urban or Weihai to Shengjing Mountain.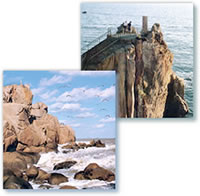 Chengshantou
Looked upon as the "ancient Cape of Good Hope", Chengshantou lies in the east of JiaoDong peninsula. It is an area boasts of evergreen ridges, deep blue sea, cliffy rants and onrushing billows, taking you into the natural environment of the oriental city.
Distance from the city (km): 50.0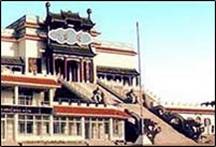 Wolong Mountain-Celestial palace and Ground Palace
Weihai Wolong Mountain tourism scenic spot is located in the northwest of the mountain area of Weihai City. To its north, there is Gumo Mountain where the famous Gumo Mountain War happened. To the south is a full view of Weihai. Wolong Mountain Ancient Buildings were renovated with the investment by Weihai Tourism Company.
Swan Lake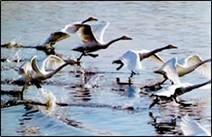 In Rong Cheng Swan Lake tourism holiday resort, there is the world's largest swan¡¯s habitat¡ªCheng Shanwei Swan Lake which has clean water, gold beach and blue sky with delightful climate.
Every year, from November to April, thousands of swans, wild ducks and wild goose from Siberia and Nei Mongu come to spend the winter. It is well named as the Eastern Kingdom of Swans.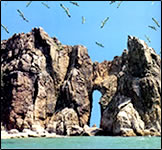 Hailv Island
Just 2 knots from Chengshantou, there is a miraculous island abounded with legend and natural view--Hailv island.
Surrounded by deep blue water and thousands of sea-gulls, with risky ridges on it, the Hailv island will be a place leading you into the ancient fairy tale.