Weihai Introduction
Weihai (Chinese: 威海; pinyin: Wēihǎi), known in the past as the Weihai Garrison (Chinese: 威海衛; pinyin: Wēihǎi Wèi) or Weihaiwei, and sometimes as Port Edward during the colonial period, is a prefecture-level city in eastern Shandong province, People's Republic of China. It borders Yantai to the west and looks out to the Yellow Sea to the east.
Location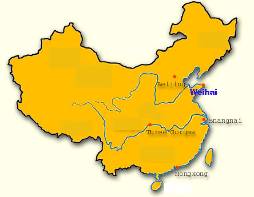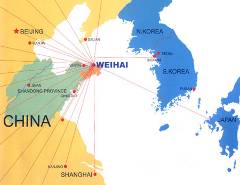 Administrative Divisions
The prefecture-level city of Weihai administers 4 county-level divisions, including 1 district and 3 county-level cities. They are Huancui District (环翠区), Wendeng City (文登市), Rongcheng City (荣成市), and Rushan City (乳山市).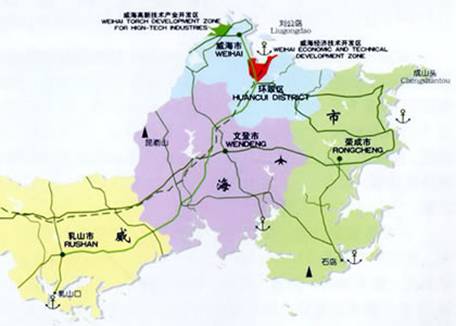 These are further divided into 66 township-level divisions, including 52 towns and 14 subdistricts.
Area and Population
The urban area of the city of Weihai covers 731 square kilometers and has a population of 569,000. Together with the surrounding administrative division, the total area occupied by Weihai is 5,436 square kilometers and the total population 2.47 million.
History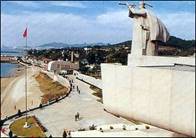 The port was once the base for the Beiyang Fleet of China during the Qing Dynasty. In 1895, the Japanese captured it from the landward side. It was evacuated in 1898.
After Russia leased Port Arthur from China on the opposite coast for 25 years in March, 1898, the United Kingdom obtained a lease which was to run for as long as the Russians stayed in Port Arthur. In 1905, when Japan took over the lease of Port Arthur, the British lease was made to run as long as the Japanese occupied Port Arthur. Thus the city was part of a territory (c.285 sq mi/740 km²) called "Weihaiwei", which was leased by the United Kingdom from 1898 until October 1, 1930.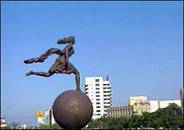 The last British commissioner of Weihaiwei was Reginald Johnston. It was briefly a special administrative region after it was returned to the Republic of China, the successor to the Qing Dynasty. In 1949, Weihaiwei City was established to be renamed into Weihai City after the founding of the People's Republic of China.
The nickname British sailors gave to this port was "Way High"; it was also sometimes referred to as Port Edward in English.
Geography and Climate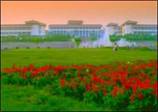 Weihai is surrounded by sea on three sides and the harbor is protected by Liugong Island. It is located on the north-eastern seashore of Shandong Province in China at 37°28′0″N 122°7′0″E37.46667, 122.11667.
Weihai has a mild, seasonal climate moderated by the surrounding sea. August is the warmest month with a 24-hour average temperature of 24.3°C and January the coldest (24-hour average temperature of -1.5°C.
Look at today's weather report of Weihai, please click
http://www.tianqi123.com/china,weather,forecast/chengshi_1658.html
Economy
At present, Weihai is a commercial port and major fishing center with some light industries. It is also a key production area for peanuts and fruit. The output of aquatic products reaches 2.21 million tons, up 5.2%. The additional value numbered 23.37 billion, up 18.5%. The market for domestic consumer products was prosperous with total retail volume of social consumer products reaching 13.259 billion, up 13.4%.The finance and foreign trade developed constantly. Great economic results were achieved.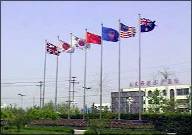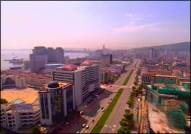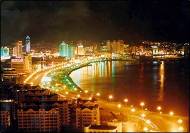 Education
Weihai had 4 broadcasting stations with a broadcasting coverage of 86.6%; 4 TV stations with a TV coverage of 96.2%; 6 professional art troupes; 6 newspaper offices; libraries museums, painting and calligraphy studios, literature creation, archives, cinemas, and dancing halls. With complete cultural facilities and orderly cultural market, social cultural activities were colorful, literary arts were fruitful and the achievements of foreign cultural exchanges were conspicuous.
Campuses of Shandong University and Harbin Institute of Technology are located there.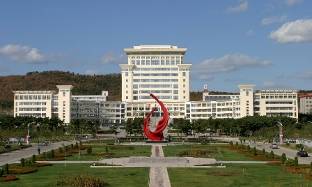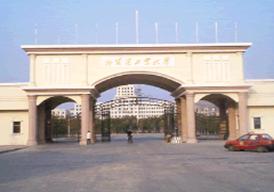 Transportation
Weihai International Airport serves the city with regular service to Beijing, Shanghai, Guangzhou, Harbin domestically and the Korean cities of Seoul and Busan. The N456 train departs everyday at 8:30PM for Jinan, the provincial capital, and the No. 2518 goes directly to Beijing. Internally, the city is served by 44 bus routes.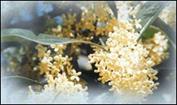 City Flower of Weihai
Laurels are evergreen bushes with luxuriant leaves. It blossoms in middle autumn with a fragrance. It is a kind of bush suitable for institutions, schools and residences. Laurels are resistant to poisonous gas. Laurels grow well in the warm environment and under the sunshine Laurels can grow on many kinds of soils.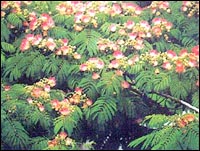 City Tree of Weihai
Silk tree is a deciduous arbor. Its crown is like an umbrella. The leaves are thin and the shade of the tree is umbrella-shaped. With clusters of red flowers, silk trees are pretty and special. Silk trees are good for the neighborhood factories and mines with the green color. Silk trees can grow in the barren and arid land, even in cold regions. With an ability to solidify the earth, silk trees can function as protective belt along an embankment. In May 1993, the silk tree was determined as the city tree.

Symbol of Weihai
The symbol of Weihai is composed of C.W.H----English capital letters of China Wei Hai. C has a curving edge in which there are blue ripples. Liugong Island stands in the middle of the bay, meaning Weihai is a beautiful coastal tourist city; W becomes deformed into an ancient sailing boat, meaning Weihai is a historical coastal defense spot. H is deformed into petals of the city flower which form spectacular light rings around the sun, meaning that Weihai is a garden city and the causes of Weihai are flourishing and prosperous like the newlyrising sun.
Sister cities
• Cheltenham, United Kingdom (since May 21, 1987)
• Ube, Yamaguchi, Japan (May 18, 1992)
• Santa Barbara, United States (December 8, 1994)
• Yeosu,South Korea,(February 17, 1994)
• Sochi, Russia (October 18, 1996)
• Biella, Italy (October 22, 1996)
• Timaru, New Zealand (July 30, 1998)
• Brazzaville, Republic of the Congo (May 24, 2004)

External links
• Government website of Weihai www.weihai.gov.cn (available in Chinese, English, Japanese and Korean)
• Weihai Sub-Council of China Council for the Promotion of International Trade http://en.whccpit.org.cn/